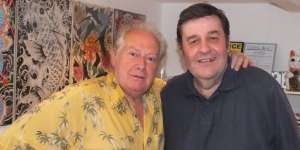 Dennis Cockell passed away on Friday, 14th October 2022
In everything we love, we have our heroes. From football to music to ballroom dancing, everything has its place, and people who helped to get us to that place we all want to be, and for many of us, Dennis Cockell did that for British tattooing. A man who, in his time, tattooed the likes of Steve Jones of the Sex Pistols, rockabilly legends The Stray Cats to 100's of the icons of the rock n roll fraternity who came through his doors. Dennis opened his first studio in Worcester, England, in 1968 before moving to arguably his most famous studio on Finchley Road in the trendy part of London. A studio where he first started to attract rock stars and gained his remarkable reputation as well as the ordinary man and women in the street. Dennis appeared in music papers, magazines, on film, and just about everywhere good solid tattooing was mentioned. He was credited on music bands' record sleeves, including a Stray Cats EP, alongside the American tattoo legend Bob Roberts as the boy's tattooist. Sadly Bob (Roberts) also passed away in 2022.
Dennis, born in 1948, influenced many and gave quite a few budding tattoo artists a start in the tattooing world. Even thinking about it now, I can still remember visiting Dennis in Soho, in London's west end, wondering how he would treat me as a young man trying to get to know a little more about this beautiful world of tattooing. Still, my concern soon went out of the window as Dennis welcomed me like I was one of the family, and his cheerfulness and evident love of anything tattoo just poured out of him. Dennis traveled the globe and built long-lasting friendships with most of the world's top tattoo artists. Dennis loved oriental tattooing and did some extensive work during his long career. Dennis Cockell passed away on 14th October 2022, and everyone in the tattooing profession owes Dennis enormous gratitude for all he did to show the world the art of the indelible mark. Dennis leaves a wife and two daughters and many great memories. Goodbye, old mate. See you when my time comes.
Paul Sayce