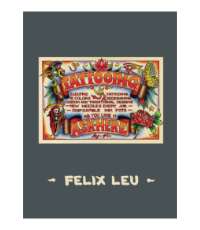 Tattooing Ask Here by Felix Leu
Tattooing Ask Here details the colourful history of Felix Leu with an accumulation of personal anecdotes, pictures, and original and traditional tattoo flash. The book records Felix Leu's artistic background and vivid imagination, leading to a unique freehand tattooing style. Felix Leu was a pioneer of the Tattoo Renaissance that began in the Seventies.
Created by Loretta Leu, who met Felix Leu in New York in the mid-sixties, they travelled and lived in America, Europe, North Africa, India, and Nepal as they travelled and, having four children along the way, discovered in 1978 that they could support themselves through tattooing. They settled in Switzerland in 1981, and the Leu's created The Leu Family's Family Iron Tattoo Studio. Felix died of cancer in 2002. Loretta continues live in Switzerland.
Felix Leu's tattoo heritage carries on by his family the numerous
young tattooists, his son Filip Leu has become one of today's foremost
tattoo artists.
Available from